OceansWide: Educating the Next Generation of Marine Technicians and Ocean Explorers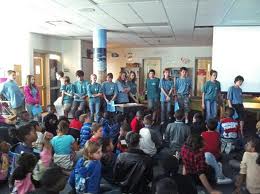 OceansWide is an emerging educational organization dedicated to helping students, many with alternative learning needs, pursue marine-related careers as technicians, scientists, engineers, and explorers. Since 2015, OceansWide has operated a residential summer camp in Maine at the Schoodic Institute and classes in partnership with Maine high schools, especially in Downeast Maine on the Schoodic Peninsula. OceansWide is launching the "OceansWide Center for Marine Education and Exploration" at a University of Maine facility, which contains a 62 foot diameter tank that will allow OceansWide to teach year round classes in SCUBA, ROV /AUV operation, side-scan and multi-beam sonar, marine safety, and many more subjects.
OceansWide is also developing another site to house its innovative "Traps-to-Treasure" project and is converting an historic F/V Pauline to a research vessel for it's students. OceansWide's innovative programs and projects present a unique educational model for educating a wide range of students; from those at-risk to high achieving national scholar students, for career paths in marine-related fields, while involving them in projects that protect our oceans and coastal environments. Blue Planet Strategies worked with OceansWide to build its capacity and take advantage of growth opportunities through fund raising, long-term strategic planning, and improved marketing.