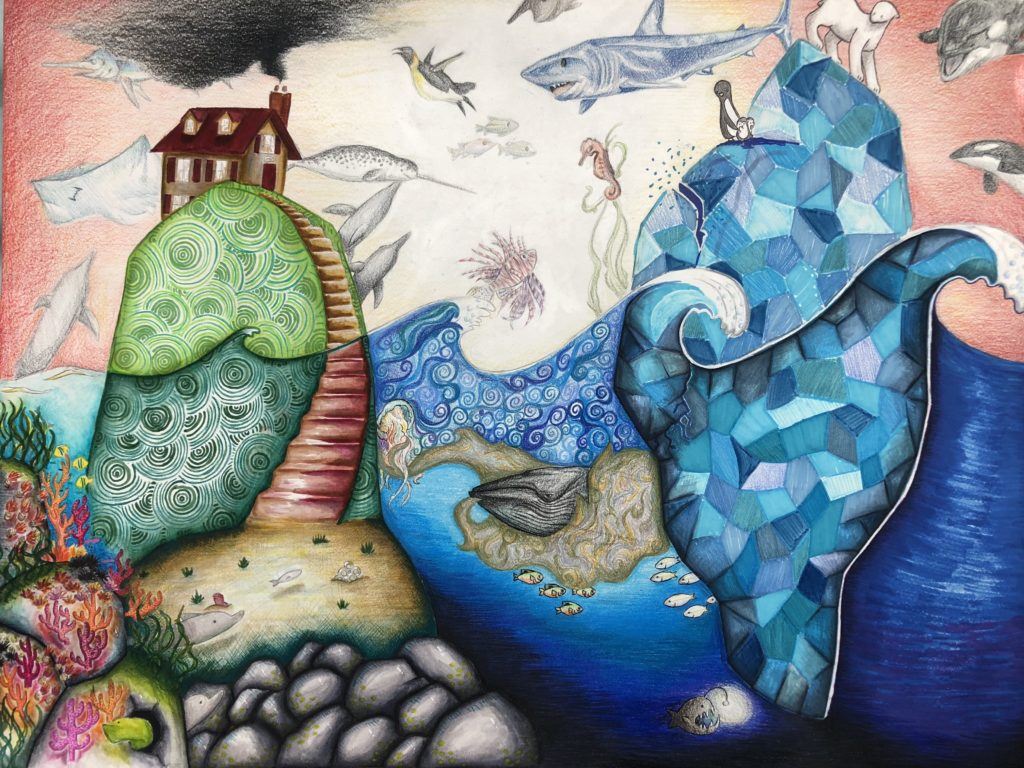 Blue Planet Strategies is working to help our clients and partners tackle the significant challenges that threaten the world's oceans. Scientists believe that 99 percent of the livable environment on earth is found in the oceans, and the health of the world's oceans is critical to life. However, our oceans are facing an unprecedented assault of complex human created problems, including climate change, which is reaching a crisis point. Through our work, we hope to make significant contributions to conserving the world's great whales, transitioning fisheries to sustainable ecosystem-based management, reducing the impacts of climate change on ocean habitat and wildlife, and leaving the world a better place for future generations.
Saving North Atlantic Right Whales
Blue Planet Strategies is developing a strategic advocacy and communications campaign to help save the North Atlantic right whale from extinction. Entanglement in fishing gear and ship strikes are the two leading causes of right whale deaths. Since 2017 at least 30 right whales have died with all known causes of death attributable to entanglement or ship strike. Today, less than 400 right whales are left on earth, and less than 100 of these are reproductively viable females. We are currently working with a number of eNGO partners providing policy and legal analysis, strategic advice, and outreach to the public and regulators as part of a campaign to reduce the entanglement of North Atlantic Right Whales in U.S. and Canadian waters.
Nearly all right whale deaths resulting from entanglements and ship strikes can be eliminated by reducing the co-occurrence of the vertical fishing lines that entangle whales, and changes to shipping practices that will to avoid collisions. To successfully implement the changes that are needed, however, we also need the strategic communications based in sound science and public policy necessary to move public opinion, counter powerful industry advocates, and empower decision-makers to take the difficult and urgently needed actions to save right whales.
Developing "Whale-safe" Fishing Gear
We are working with a non-profit engineering firm SMELTS (Sea Mammal Education Learning Technology Society) to help them develop "ropeless" fishing gear that can be used to fish for American lobster and Jonah crab in New England and Maritime Canadian waters. Ropeless gear would eliminate the vertical lines (rope) that connect trap and pot gear on the bottom of the ocean to buoys at the water's surface. These lines are responsible for entangling whales, including the endangered North Atlantic right whale. We are helping SMELTS develop ground-up support among fishermen for testing and experimental use of the gear, and helping fishermen provide feedback to SMELTS engineers for design improvements that will help the gear "fit" with the Northwest Atlantic's unique and widely variable fishing conditions. Blue Planet Strategies and SMELTS are also working cooperatively with several other ropeless gear designers to develop testing and experimental use of their gear designs, because we believe there is likely more than one solution to the entanglement threat.
StrikeMaps: Global Center for Whale Ship Strike Mapping and Prevention
We have partnered with the Great Whale Conservancy to launch a campaign to establish the world's first whale ship strike mapping and policy center – StrikeMaps – that will identify "hotspots" where whale ship strikes occur and help develop solutions necessary to avoid such collisions. StrikeMaps will work cooperatively with the shipping industry, scientists, and conservationists to develop actions that can prevent whale-ship collisions, like shipping lane changes, temporal adjustments to shipping schedules, limits on vessel speeds, or development and implementation of new technologies.
OceansWide: Educating the Next Generation of Marine Technicians and Ocean Explorers
OceansWide is an emerging educational organization dedicated to helping alternative pathways students pursue marine-related careers as technicians, scientists, engineers, and explorers. Since 2015, OceansWide has operated a residential summer school in Maine at the Schoodic Institute, and non-residential school programs at Caumsett State Park, Lloyd Harbor, NY. OceansWide also offers year-round classes in partnership with Maine high schools, especially in Downeast Maine on the Schoodic Peninsula. OceansWide is currently seeking to establish a year-round school, and is launching the "OceansWide Center for Marine Education and Exploration" at a University of Maine facility, which contains a 62 foot diameter tank that will allow OceansWide to teach year round classes in SCUBA, ROV /AUV operation, side-scan and multi-beam sonar, marine safety, and many more subjects. OceansWide is also developing another site to house its innovative "Traps-to-Treasure" project and is converting an historic fishing vessel (The Pauline) to a research vessel for its students.
OceansWide's innovative programs and projects present a unique educational model for educating at-risk youth for career paths in marine-related fields, while helping to protect our ocean and coastal environment. Blue Planet Strategies is helping OceansWide to take advantage of growth opportunities by developing a long-term strategic plan, improving its marketing, and stabilize it organization through building its capacity.
Protecting the Ocean's Food Chain
Blue Planet Strategies is also continuing our longstanding work to protect the East Coast's forage base, critical habitat, and to transition fisheries to ecosystem-based management. We are working with our clients and partners to identify and leverage regulatory mechanisms to advance measures that will implement an Atlantic herring fishery control rule that accounts for the needs of predators, a near-shore buffer zone from midwater trawling, ecosystem-based reference points (ERPs) in the Atlantic menhaden fishery, a federal fishery management plan that protects and rebuilds river herring and shad, and measures that will protect currently unmanaged krill and copepod resources.
We've also worked extensively on the Northeast Canyons and Seamounts Marine National Monument.